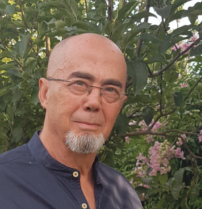 Title member: José E. López Gálvez
Bachelor of Medicine and Surgery. Anesthesiologist resuscitator. Trained in Reichian psychotherapy and Jungian Psychology. Active member of the S.E.D.A.R. (Spanish Society of Anesthesiology and Resuscitation) from 1988 to 2000: Member of S.E.P.T.G. (Spanish Society of Psychotherapy and Group Techniques) since 1994. Associate Member of the ES.TE.R (Spanish School of Reichian Therapy) from February 1996 until January 1998. Title member of ES.TE.R from January 1998 to 2001. Member of the Spanish Transpersonal Association (A.TR.E.) since 1998. Member of the Spanish Society for Psychotherapy and Integrative Analysis (SEPAI) and current deputy director.
Personal therapy work (Vegetotherapy character analytics) completed with Dr. Manuel Redon. Control therapy with the clinical psychologist and orgone therapist M. S-Pinuaga. Ad vitam therapy until 2001 with the physician and clinical psychologist Dr. Mikel García. Jungian analysis with analyst Dr. Jose Zabala during a year and a half, until his death in 2006. Jungian Analysis with the analyst Beatrice Jezic in Switzerland since 2008 as well as Jungian Analysis with Theodor Abt in Zurich from 2010 to the present.
He speaks Spanish, English and French.
He lives and works in Valencia, Spain.
Email: lopezg.jose55@gmail.com
jelopez@comv.es
Website: www.proyectoavalon.org