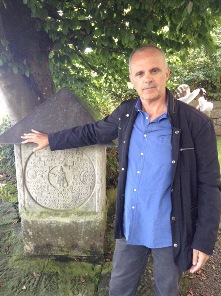 Title member: Dr. Javier Castillo Colomer
Graduated in Analytical Psychology from the Research and Training Centre for Depth Psychology according to C.G. Jung and Marie-Louise von Franz. Zurich, Switzerland. 
Academic Qualifications
University Degree in Philosophy and Educational Sciences, Psychology Section (1983).
PhD in Psychology from the University of Valencia, Excelent Cum Laude (2002).
Specialist Psychologist in Clinical Psychology (2003).
Europsy, European Certificate in Psychology (2011).
Europsy, European Certificate in Psychoterapy (2011).
Accredited by AVAP (Agencia Valenciana de Evaluación y Prospectiva) as a university professor (2016).
Clinical experience 
Trained in Psychoanalysis, Reichian analysis and Jungian analytical psychology. Individual and group therapist. I started my studies in 1978.
Psychotherapist with a psychoanalytic orientation working with adults in private practice since 1983.
In public service practice from 1986 to 1989.
University Professor
Professor at the International University of Valencia (VIU) in the following subjects:
Psychology of Childhood and Adolescent Development in the Psychology degree (2012-13).
Master's Degree in Third Generation Therapies (2013-14).
Clinical Psychology in the Psychology degree (2014-18).
Psychodynamic Therapies in the Psychology degree (2015-18).
Psychology of health in the adult population: Intervention and treatment, in the Master's Degree of General Health Psychology (2014-17).
Director of the Master's Degree in General Health Psychology at the VIU (2014-2016).
External lecturer at the CEU – Cardenal Herrera University of Valencia in the Master's in General Health Psychology for the subject of treatment in adults (2015-2018).
Professor of Lifelong Learning at the Polytechnic University of Valencia. Course: "Psychoanalysis, creativity and self-knowledge" (2017-18).
Professor at the University of La Coruña for the course "Jungian Oriented Psychotherapy" (Psimática Virtual Classroom) in 2017.
Other titles
Accredited as a psychotherapist by the FAPyMPE (Spanish Federation of Psychologists and Medical Psychotherapists Associations) (2016).
Advisor to the board of directors at the Official College of Psychologists in the Valencian Community in clinical psychology, psychotherapy and psychoanalysis since 1990.
Professor of Psychoanalysis at the Ateneo de Madrid, from 2013 to 2017. Coordinator of the master's degree in Psychotherapy and Jungian analytical psychology.
Director of the Profundis Collection of the Manuscritos Publishing House (2012-2015).
Memberships
Member of the International Society for the Development of Jungian Psychoanalysis (that belongs to the International Federation for Psychotherapy), since 2014, being its first president.
Member of the Association des Psychanalystes Europeens (APE) since 2019
Member of the International Association for Psychoanalytic Self Psychology since 2015.
Member of the Oscar Masota School of Psychoanalytic Studies from 1982 to 1984.
Member of the Spanish School of Reichian Therapy (Spanish section of the SEOR) from 1989-1993.
Member of the W. Reich Paris institute from 1994-1996.
Member of the Spanish Society for integrative psychology and psychotherapy (SEPPI) from 2005-2014
Member of the Spanish Society of Psychotherapy and Group Techniques (SEPTG) from 1990-2014.
Book Publications 
Analytical psychology and integration. (2002), la Nau.
Dreams in Life, Illness and Death (2005), Biblioteca Nueva.
The value of suffering. Notes on suffering and its meanings, creativity and psychotherapy (2007) Desclée de Brouwer.
How we psychoanalyse: how psychotherapy approaches human suffering, (2008).
From the Dionysian to the demonic. Psychoanalysis of fear, guilt and other feelings (2008), Manuscritos.
Reason and strength of the myth. The Eros and psyche relationship in the analytical space (2009), Fata Morgana.
Deep Psychology (2010), Manuscritos.
An introduction to dream interpretation (2013), Manuscritos.
My Experience with the Yanomami (2015), Manuscritos.
Jungian-oriented psychotherapy. An integrative vision of Analytical Psychology (2017), Psimática editorial.
The hole and other brief stories (2018). Psimática editorial.
Collaborator in four more books writing a chapter for publishers such as Temas de Hoy or Kairós and has written 12 articles in specialised journals.
Author of the Manual of Clinical Psychology, Developmental Psychology and Dynamic Psychology for the VIU.
Research and development of a new model
Creator of Dynamic Psychotherapy Oriented by Dimensions (PDD).
An integrative model that works with the following dimensions: Cognitive, Topographic, Psychodynamic, Abreactive, Relational and Existential.
Especially suitable for the development and understanding of psychotherapy with psychotic and borderline patients.
Contact Details:
Tel: 629612318