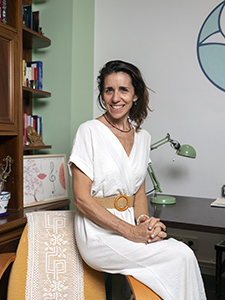 Associate member: Eliana D'Alessandro​
---
Eliana D'Alessandro holds a degree in Psychology from the University of Buenos Aires (2000) and another as Professor of Psychology at the same university since 2002. Her academic journey is complemented by a diverse range of qualifications and experiences:
She is a certified Instructor of Yoga and Body Techniques, having completed her training in Buenos Aires in 2003. She continues to enhance her skills by participating in virtual workshops, including those led by Lic. Carlos Gonzalez Laporte.
Eliana is recognized as a Health Psychologist by the Colegio Oficial de Psicología de Catalunya, holding license number 17057.
Her academic pursuits led her to earn a Postgraduate degree in Sexology from the University of Barcelona in 2008. In 2015, she became an Ayurveda Therapist Nishnat, specializing in the diagnosis and treatment of diseases from the perspective of Traditional Indian Medicine. This achievement was accomplished through the Meinam Association in Barcelona, in collaboration with The Ayurveda Institute in Pune, India.
As a co-founder of 3vedicas.es, Eliana is committed to promoting Ayurveda. She organizes Advanced Courses and continued studies in Traditional Indian Medicine, featuring esteemed guests such as Dr. Prachiti Kinikar and Dr. Mahesh Patil.
Eliana conducts and arranges workshops on Sexuality. Reading Circles and Dream Studies in collaboration with Lic. Julián D'Alessandro. They are set to present a virtual course on Dreams and Literature in 2024.
She is presently on her path to becoming a Jungian Analyst in the Spanish Society of Analytical Psychology, a journey she embarked upon in 2016. Her final work has been submitted and awaits evaluation by the Training Committee and the Evaluation Tribunal.
Born in Buenos Aires, Argentina, Eliana has called El Masnou, Spain, her home since 2006. She operates a private practice in both El Masnou and Barcelona (L'Example area) and offers virtual consultations via Zoom. Eliana also imparts classes on Body Awareness and Hatha Yoga, which are available in El Masnou and online.
Language proficiency: Spanish, English.
Website: elianadalessandro.com
Contact: dalessandroeliana@gmail.com